Our white and brown solid board envelopes offer a sleek, professional appearance while providing sturdy protection for your important documents and mailings. 100% ♻️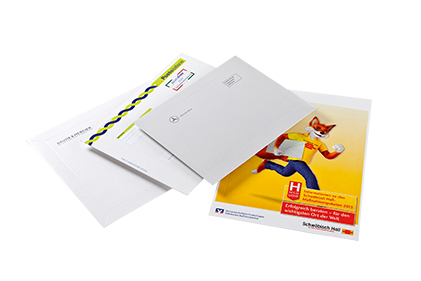 Brand your Solid Board Mailer
Upgragde your mailers! These professional envelopes not only provide top-notch protection for your important documents and materials, but also serve as a powerful marketing tool, showcasing your brand's logo and messaging in crisp, vibrant detail. Make a lasting impression on your clients and stand out from the competition with these customized mailing solutions that blend functionality with unmatched style! 🌟
Send inquiry
Presenting our Solid Board Envelopes
The epitome of style and durability in postal packaging. These white or brown solid board postal pockets are the perfect solution for mailing documents, DVDs, CDs, magazines, and more. Crafted from high-quality solid cardboard, these envelopes boast a low inherent weight while providing strong bend protection for your important items.
Our FSC® Certified Solid Board Envelopes are specifically designed to cater to the needs of postal and courier deliveries. The clean, recyclable solid board material ensures that your packages are not only eco-friendly but also resistant to bends and damages. The lightweight design makes it an ideal option for shipping catalogs, magazines, and other publications without the added bulk.
The self-sealing technology employed in our solid board envelopes saves you time and the need for additional sealing materials. This feature, coupled with the easy-to-use tear strip, ensures that opening the envelope is a breeze, without causing any harm to its contents. The resealable nature of the envelope also means that customers can reuse it, further adding to its eco-friendly credentials.
Available in a range of sizes and formats, from the classic standard to special formats tailored for documents or data carriers, our solid board envelopes cater to all your mailing needs. Their versatility and practicality have made them a popular choice among our customers.
But that's not all. Our envelopes are also equipped with reinforced edges, adding an extra layer of protection to your packages. The postage-optimized book shipping feature is another bonus, ensuring that your items reach their destination in pristine condition.
And if you happen to be in Sydney, you can opt to pick up your order in-store and save on delivery fees. We pride ourselves on shipping all across Australia, covering not just the state capitals like Melbourne, Brisbane, Adelaide, Hobart, Perth, and Darwin, but every nook and cranny of the country.
In conclusion, our Solid Board Envelopes are the ideal choice for anyone in need of reliable, eco-friendly, and stylish postal packaging. With their range of features and benefits, they are sure to meet and exceed your mailing needs. Choose our envelopes and give your documents the protection and style they deserve.